Game of the Day
After four rounds of the Moscow Open Men's Cup of Russia event Tamir Nabaty (Israel), Boris Savchenko (Russia) and Nikolai Shukh (Russia) suffer no losses so far. Seven chess players with half a point less are chasing them. Creative work of the chasing group is represented in our traditional section. The game of the day between Ivan Bocharov and Alexej Gorbatov turned out to be instructive from the strategic point of view.
«A Knight-Blocker»
Nimzowitsch considered a knight with the combination of such qualities as flexibility and aggressiveness to be the best blocking piece. This game is a proof of the thesis of a great master of the positional game. Positioning cozy on the e3 blocking field, the white knight was conducting the actions of its army on the whole board. And the knight-blocker joined the attack on the black king at the last seconds of the game, making it immediately capitulate!
Read more.
Bocharov, Ivan (Russia) – Gorbatov Alexej (Russia)
Russia Cup Stage 2018
Sicilian Defense
1.e4 c5 2.Nf3 d6 3.d4 cxd4 4.Nxd4 Nf6 5.Nc3 Nc6 6.Bg5 Qa5
Rare continuation, the main aim is to avoid of sharp lines of dangerous Richter-Rauzer attack.
7.Bxf6 gxf6 8.Nb3 Qg5 9.Nd5 Rb8 10.f4 Qg6 11.Qf3
Two bishops are of no importance because of their pawn structure passivity.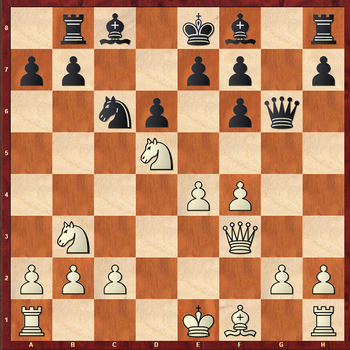 11...f5
Giving way to bishops! But White pieces can also use the cental lines.
12.Bd3 fxe4 13.Bxe4 f5 14.Bd3 Bg7 15.c3 0–0 16.0–0 e5
Driving back of knight from d5 – 16…е6 17.Ne3 was possible, but in this case «hanging» pawns d6 and е6 would be a good target for opponent's pieces.
After this move there is suddenly a structure that characteristic for Chelyabinsk variation.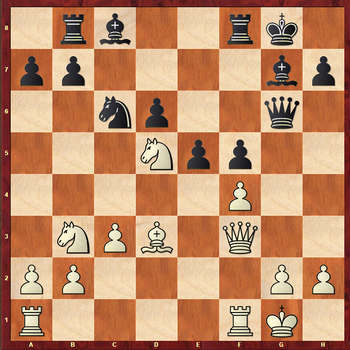 This position was seen earlier in the games of less - known chess players and White played always 17.Bc2.
17.Qh3!
An excellent planned move. White wants to regroup his pieces leading to the typical position with «blocked» knight on e3.
17...Qf7 18.Ne3! e4 19.Bc4 Be6 20.Bxe6 Qxe6 21.Rad1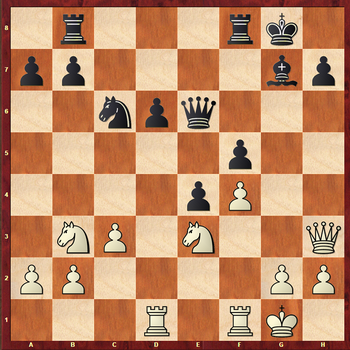 White has a nice knight-blocker spreading its influence around the surrounding area. The plan of strengthening of White position becomes clear – maneuver Rf1-f2-d2.
21...a5!
Forcing the game quickly, Black doesn't allow to the opponent to consolidate his advantage.
22.Rd5! a4 23.Nd4 Bxd4 24.cxd4 Ne7 25.Rb5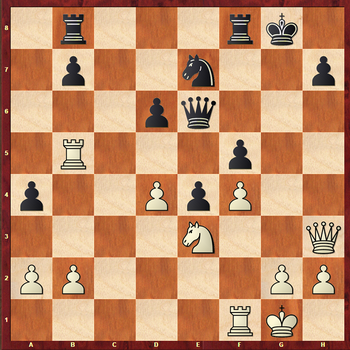 Till now both sides played well, and current position can be assessed as approximately equal. Structural achievements of White are compensated by clumsy position of his rook on b5.
25...d5?!
From this moment Black makes his position worth by each move. And the game having started so interesting comes to its end already in ten moves!
Black should play 25...Qd7 26.Rb4 b5 27.d5 Qa7 28.Rd1 Ng6 29.Qg3 Rb7 30.Rbd4 Rg7, and the position will be equal.
26.Qh4 Qd7?!
In case of 26...b6 White keeps tension by 27.Qe1!, and on 26...Rfc8 27.Ra5 is possible.
27.Rc5 b6?!
Attacking white rook Black improves the placement of this rook.
To decrease White attack was possible in case of 27...Rbc8 28.Qg5+ Kh8 29.Qh6 Kg8 30.Rfc1 Rxc5 31.Rxc5 Rc8 etc.
28.Rc3 Rb7?!
White has a stable advantage in case of the next continuations: 28...Rbc8 29.Rxc8 Rxc8 30.Qg5+ Kf7 31.Qh6 Kg8 32.Qxb6 or 28...Qd6 29.Qg5+ Kh8 30.Rfc1 Rb7 etc.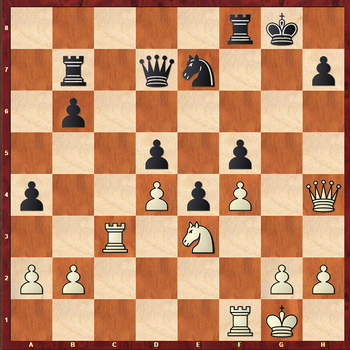 29.g4?
The typical undermining for such structures, but much stronger was 29.Qg5+ Kh8 30.Qh6, and only then g2-g4!
29...Kh8?
It was bad 29...fxg4?? 30.Qg5+ Kh8 31.Qe5+ Kg8 32.Nxg4Qxg4+ 33.Rg3, and White wins. But 29...Qe6! 30.Kh1 Kh8 gave a chance to consolidate.
30.Qh6!
Commanding the sixth rank.
30… Qd8?
Was better 30...Qe8, with the idea of after 31.Qe6 playing 31…Qg6.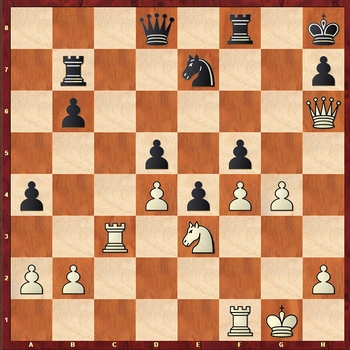 31.Qe6!
The beginning of terrible defeat!
31…fxg4 32.Qe5+ Kg8 33.Nxg4 Kf7 34.Nh6+ Ke8 35.f5 1–0