Review
Grandmaster from Israel Tamir Nabaty is a sole leader of the 2018 Moscow Open Cup of Russia tournament. Young chess players from Moscow Semen Lomasov and Nikita Afanasiev are literally upon his heels. Today Nikita is a hero of our traditional section.
"Case in Mountains"
Likewise in mountains one careless shout can lead to the fall of an avalanche, so as in the game – one careless move of the black led to the action of mechanisms of the initiative development from the side of an opponent. And besides the increase and development of the attack of the white was so quick and inevitable that the black king found itself under the snow drift in 10 moves!
Afanasiev, Nikita (Russia) – Drygalov, Andrey (Russia)
Russia Cup Stage 2018
Scotch game
1.e4 e5 2.Nf3 Nc6 3.d4 exd4 4.Nxd4 Nf6 5.Nxc6 bxc6 6.e5 Qe7 7.Qe2
This variation that had been come into practice by Soviet master N.Kopaev, got its «second birth» in modern chess after match G.Kasparov – A.Karpov (New York/Lyons, 1990).
7…Nd5 8.c4 Nb6 9.b3
The main strategic idea of N.Kopaev's variation is restriction of movement and elemination of a Black knight from the game. Certainly, Black has to counteract to opponent's intention having organized undermines of outposts е5, с4, b3.
9…Qe6 10.g3 a5 11.Bg2 a4 12.Bb2 Bb4+ 13.Nd2
Till now every move was logical. One of the natural continuations was 13...axb3 14.axb3Rxa1+ 15.Bxa1 0–0 16.0–0 d5. E.g. 17.Nf3 Qh6 18.Qc2 dxc4 19.bxc4 c5 with competent game for Black, A.Danin – L.Nisipeanu (Bad Wiessee,2013).
13…Rb8?
The idea of dislodging of White bishop from diagonal a1-h8 in variation 14.0-0 a3 15.Bd4 c5 suggests to postpone the realisation of standard counterplay in the center. The delay is turned out to be fatal.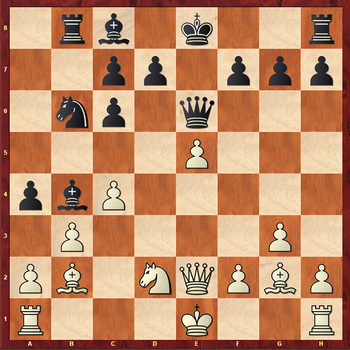 14.Rc1!
This difficult-to-find move essentiallly wins the game! White not only parries a threat а4-а3, but also prevents the movement of pawn d7.
14…0–0 15.0–0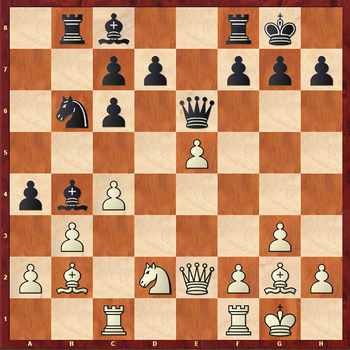 In the next variation Black has dangerous strategic position: 15...d5 16.cxd5 Nxd5 ( 16…cxd5 is impossible because of «hanging» of pawn с7) 17.Nf3 or 15...f6 16.Nf3 c5 17.Qc2, and Black position is worth.
15...Qe7
Black is going to play d7-d5.
16.Ne4
And now 16...d5? it is impossible because of 17.exd6 cxd6 18.Nf6+ with winning of queen.
16…Re8
Defending queen е7 and dreaming again about move d7-d5.
17.Qh5
As a response 17...d5 the storm has broken out: 18.exd6 cxd6 19.a3! d5 (the only move) 20.cxd5 cxd5 21.Rc7!! Qxc7 22.Qg5 Bf8 23.Nf6+ Kh8 24.Nxe8 f6 25.Nxf6 gxf6 26.Qxf6+ Kg8 27.Qh8+ Kf7 28.Qxh7+, and White wins.
17…a3
Black hopes on this intermediate move. After 18.Ba1 would follow 18…d5.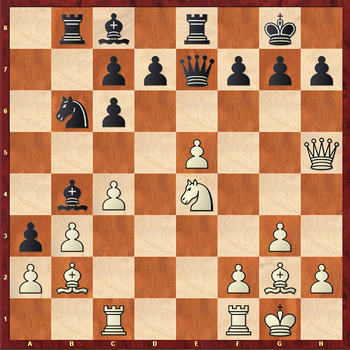 18.Nf6+!
Unrestrained fall of an avalanche has started!
18…gxf6 19.Be4 f5 20.Bxf5 f6 21.exf6 Qf7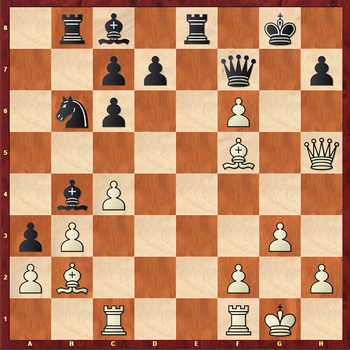 22.Bxh7+! Qxh7 23.f7+! 1–0.