Review
The first rounds of the 2018 Moscow Open Cup of Russia are played without any major surprises. Ranking favorites Tamir Nabaty (Israel) and Alina Kashlinskaya (Russia) top Men's and Women's tournaments. The victory of the Israeli player became a nominee of our traditional section. This game belongs more to an "easy" genre. However, it doesn't belittle merits of the winner.
"Fast Disaster"
"A fast disaster – grandmaster Savely Tartakover wrote – depends much on the specific weaknesses that are natural for every opening."
A light-squared bishop can become such a weakness for the black while playing a French defense. You have to treat a bishop as a kid. After strategic mistake of the 13th move, a "French" black bishop found itself locked. Trying to change negative course of events, the chess player from Kazan accepted to play in center, after that the ship belonging to the black immediately started its way to the bottom.
Nabaty, Tamir (Israel) – Murtazin, Bulat (Russia)
Russia Cup Stage 2018
French Defense
1.e4 e6 2.d4 d5 3.Nc3 Nf6 4.e5 Nfd7 5.f4 c5 6.Nf3 Nc6 7.Be3 Be7 8.Be2 0–0 9.Qd2 a6 10.0–0 b5 11.a3 Qb6 12.Nd1 a5 13.c3
This is the famous opening tabia where Black usually plays 13…а4, fixing weak squares b3 и с4.
13…Ba6?
Black wants to play b5-b4, and then to exchange his bad bishop, but his dreams do not come true.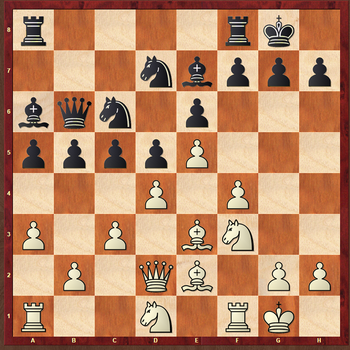 14.dxc5 Bxc5 15.b4!
Typical strategy idea. After this move black bishop becomes very passive. White wants to take a control over the dark squares.
15…Bxe3+ 16.Nxe3 f6
Black undermines the White center but this attempt makes his position worth.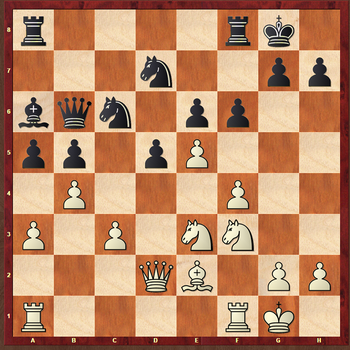 17.f5!
Suddenly it turns out that white squares are also vulnerable in Black' camp! Solid alternative was 17.Nd4 Nxd4 18.cxd4, and White is clearly better due to Black's bad bishop on a6. By the way this position was in the game Alekseev – Ni Хua (Ningbo 2008), where Black tried to decide all of his problems - 18…fxe5 19.fxe5 Nxe5, that also led to a rapid collapse after 20.dxe5 d4 21.Nd5 exd5 22.bxa5 Qc5 23.Rac1 Qxa3 24.Qxd4 Qxa5 25.e6 Bb7 26.e7 Rxf1+ 27.Rxf1 b4 28.Qf2 1–0
17...fxe5 18.fxe6 Nf6 19.Kh1 Rad8
The lesser of two evils was 19...Ne7 20.Nxe5 Qxe6 21.Qd4 with positional advantage for White.
Visually Black center is very nice, but in reality it is fragile. E.g. now it's possible such variant 20.Nxe5 Ne7(20...Nxe5 21.e7) 21.Rxf6 Rxf6 22.Nd7 Qxe6 23.Nxf6+ Qxf6 24.bxa5, with clear advantage for White. But GM from Israel wants to win immediately.
20.Ng5
The white knight is ready to move on f7.
20...Ne7 21.Ng4 d4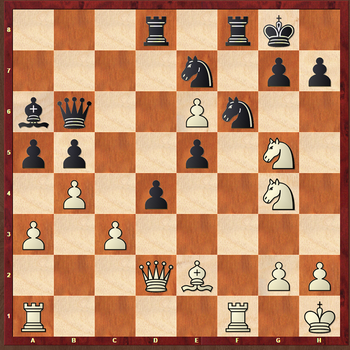 22.Qd3!
The beginning of the effective queen's maneuver. White queen plays a key role to attack black king.
22…e4 23.Qh3! h6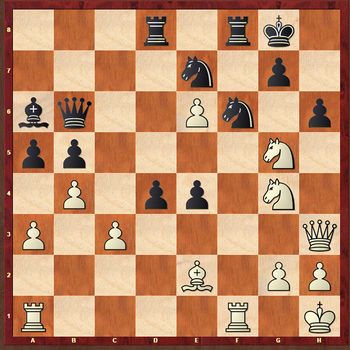 24.Nxh6+!
An easy piece sacrifice that distroys king's cover.
24…gxh6 25.Qxh6 Ned5 26.Bh5
The final point. Black can't prevent invasion of the white bishop on f7.
1–0