Review
Ranking favorites Tamir Nabaty (Israel) and Alina Kashlinskaya (Russia) are still leading in the 2018 Men's and Women's Cups of Russia. However, in the third round the blood of higher ranked chess players flew like water. A bright victory of young Elizaveta Solozhenkina (Russia) over grandmaster Iulija Osmak (Ukraine) is worth of special attention. Liza's evaluation of the key moments of this game can be watched in the video of the third round. The game between Maksim Schekachikhin and Ilia Iljiushenok from Russia was named a game of the day.
«Triumph of Spirit Over Substance»
It's highly possible that in this game Ilia Iljiushenok relied much on the theoretical recommendation dated 22 (!) years ago. Trying to return a part of the "stolen stuff" with a 16…Nc2 move, the black didn't expect that the rival will not even want to have a look at the gift. Having one castle less the white were calm enough to continue the attack on the king with quiet moves, showing unconditional triumph of spirit over substance!

Schekachikhin, Maksim (Russia) – Iljiushenok, Ilia (Russia)
Russia Cup Stage 2018
King's Indian Defence
1.d4 Nf6 2.c4 g6 3.Nc3 Bg7 4.e4 d6 5.Be2 0–0 6.Bg5 Na6 7.Nf3 h6 8.Bh4 Nh5
Solid alternative was 8...e5. Black wants to exchange his knight for white bishop.
9.Qd2 g5 10.Bg3 e6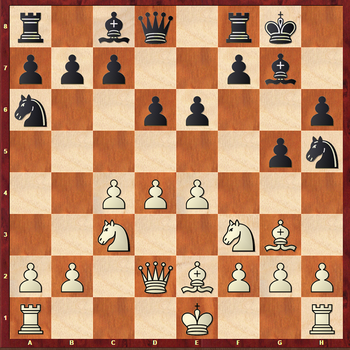 11.e5
Principle continuation had been come into practice by GM A. Alexandrov from Belarus. In the game Т.Polak – I.Glek (Viena 1996) 11.Ng1 Nxg3 12.hxg3 c5 13.d5 exd5 14.cxd5 f5 was played with comfortable position for Black.
11...g4
The next variant 11...f5!? 12.exf6 Qxf6 (S.Shipov) merits serious attention!
12.Bh4 Qd7
It seems that «curve» game of Black leads to the extermination of the opponent's center, but White has a witty objection.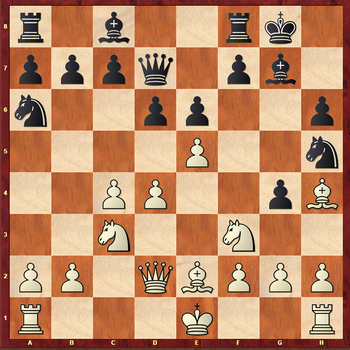 13.Qe3!
In case of capture on f3 black knight will be in trap. In the original game A. Aleksandrov – V. Babula (Yerevan 1996) there was13...f5 14.0–0–0! Qc6 (14...gxf3 15.Qxf3) 15.Rhg1! d5 16.c5 with advantage for White. GM Shipov annotating this game in ChessBase recommended (instead of 13…f5) the variant that was checked in twenty two years.
13…gxf3 14.Bxf3 dxe5
After immediate 14...Nb4 follows 15.0–0–0.
15.dxe5 Nb4 16.0–0 Nc2 17.Qe4 Nxa1 18.Bxh5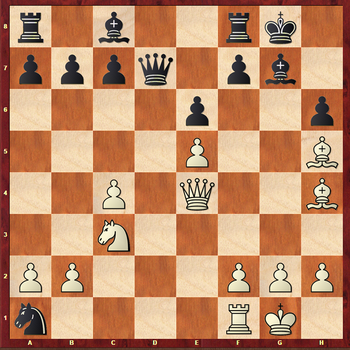 After that his analysis was over and his assessment «White has compensation for sacrificed exchange» was given. Black decided to check the significance of this compensation having prepared the next knight's jump...
18...Nc2!
Expected variant 19.Qxc2 Bxe5 leads to loss of the pawn е5 and sharp decrease of White attacking possibilities. However there was ...
19.Rd1 Qc6 20.Qg4!! Kh7 21.Ne4
Inspite of an extra rook Black can't defend his king because all of his pieces are completely disorganized.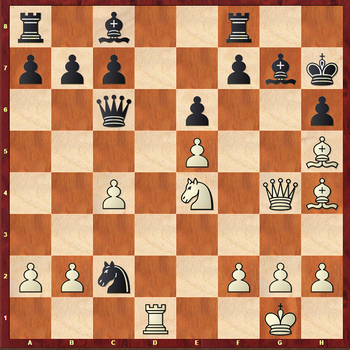 21...Bd7
Black has also losing position even in case of capture on e5.
Е.g. : 21...Bxe5 22.Bf6 Bxf6 (22...Rg8 23.Qxg8+ Kxg8 24.Rd8+ Kh7 25.Rh8#) 23.Nxf6+ Kh8 24.Bxf7, and white wins.
22.Bf6 Rg8 23.Bxf7 Bh8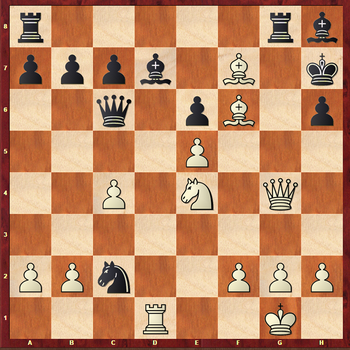 24.Bg7!
A problem blow for interference and square clearance.
24…Bxg7 25.Qg6+ Kh8 26.Ng5!
Exactness is necessary until the last moment of the game. The move 26.Nf6? leads to a draw after 26. Qxg2+! 27.Kxg2 Bxf6.
1–0