Sunday, February 4 the solemn Ceremony Closing of the 14th RSSU Chess Cup, 2018 Moscow Open was held. In course of nine days 900 chess players from 30 countries of the world were struggling for medals.
Organizers and honored guests climbed the scene to congratulate winners and medalists: FIDE President Kirsan Ilyumzhinov, RSSU Rector, President of the National Student Chess League Natalya Pochinok, President of Moscow Chess Federation Vladimir Palikhata and Deputy Director General of Management of sports and entertainment events of Moscow Alexander Buzdakov. They addressed the participants of the competition with welcome words.
Kirsan Ilyumzhinov addressed the RSSU senior management with the words of gratitude for the organization of the festival. "I'm happy that for the 14th time Moscow hosts a chess festival of the world level, chess players from all over the world come here. Thank you for the developing of chess," – FIDE President said, addressing to the organizers of the festival. Kirsan Nikolaevich thanked Vladimir Palikhata for an invaluable contribution into the event organization. In conclusion Ilyumzhinov wished success and new victories to everybody.
Alexander Buzdakov marked huge contribution of the RSSU into the organization and management of the festival. "I hope in future this tournament will be held on the highest level," – Alexander Evgenievich concluded.
The Moscow Chess Federation President expressed gratitude to partners and organizers of the tournament: the Government of Moscow, the Moscow Sports Committee, the Management of sports and entertainment events of Moscow and the Russian State Social University and personally to Rector Natalya Pochinok.
The RSSU Rector told that this year huge work in the sphere of chess education has been carried out. At the end of 2017 the online chess Olympiad for schools was held. "This year, we've made a big step forward. Our capital is the center of attraction for the best chess players of the country and the world. At the moment the RRSU Cup is one of the biggest festivals of the world," – Natalya Borisovna said.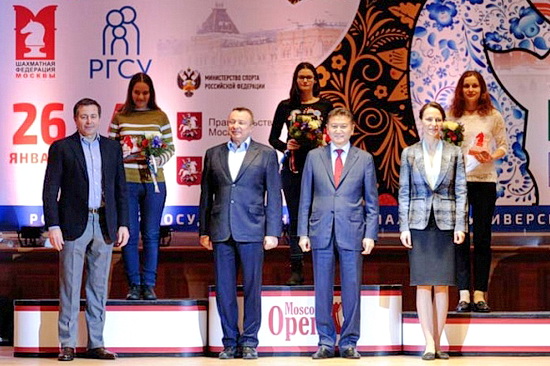 When the official part was over, the Award Ceremony of winners and medalists of the festival was held. They received special cups, medals and diplomas.
At the conclusion the RSSU Rector thanked everybody once again for their participation and declared the festival closed. "See you in 2019 at the jubilee 15th RSSU Chess Cup, Moscow Open!" – Natalya Borisovna concluded.
Photos by Galina Popova. Live broadcast of the ceremony.